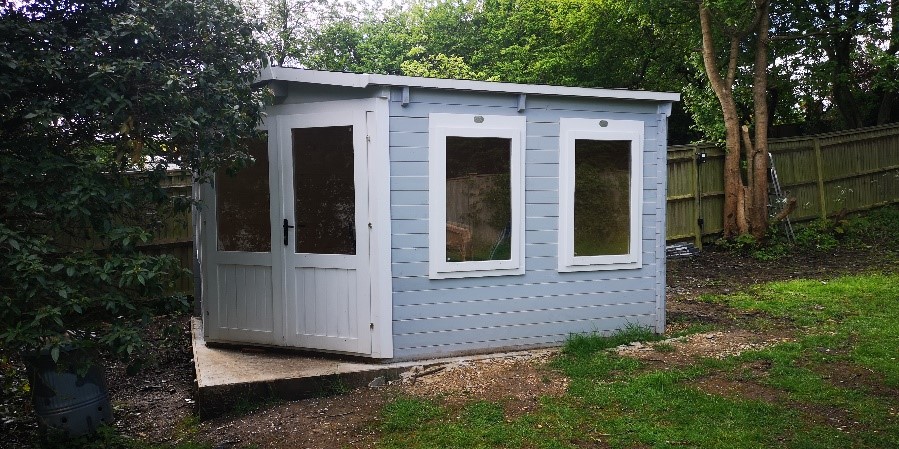 It's no surprise that the number of people working from home increased in 2020, as the pandemic swept across the country and government restrictions took hold. Makeshift offices in spare bedrooms became the new norm, but as the weeks turned to months, many started to look for something more permanent. Some retreated to their outdoor space, but that left the question for some of getting power to a garden room.
Things are starting to return to normal, but the garden office looks set to stay as employers get to grips with a new 'hybrid' way of working. To get the most out of your garden office, mains-powered electricity is essential, and in this blog, we will show you how to work with a qualified electrician to upgrade your workspace.
Before you contact your electrician
Before you contact an electrician, consider how you will use your garden office and what sort of power you will need. Does the space double-up as a summerhouse? If your office is a temporary arrangement, how might you use the space after, and what electrics will you need? Could it end up as a teenage den or even a pub shed?
Your electrician will need to know where you want your switches and how many sockets you need. How much power you require will determine the size of the cable and whether an additional consumer unit is required. Make a list of all the things you will need to 'plug in', and don't forget to include sockets for:
laptop/computer
phone charger
WiFi router
smart speaker or radio
printer/scanner/copier
heating in the winter
fan in the summer
It's far safer to ask your electrician to fit additional sockets now, than realise too late that you haven't got enough. Overloading extension leads is dangerous and can cause an electrical fire.
Who can carry out the work?
Getting power to a garden room will involve your electrician needing to add a new circuit to the main consumer unit in your house or take an electrical feed from an existing circuit. This is considered 'notifiable work' under the UK's building regulations, which means that you must notify the local authority.
 A qualified electrician registered with a competent person scheme can certify their own work, but they will still need to inform the local authority of the changes they've made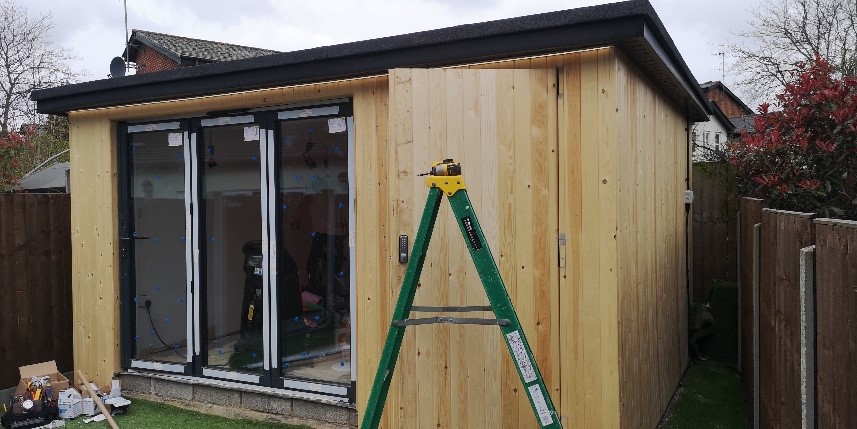 ​. At Full Circuit Solutions, our electricians are registered under the compliance scheme, NICEIC, giving us full authority to sign off our own work.
At the end of the job, we will give you an electrical installation certificate (EIC) that proves the work has been carried out to a safe standard by a 'part P' qualified electrician. You will need this when you come to sell your property – without it you will have to pay for an additional inspection or risk delaying the sale of your house.
Never attempt to carry out this type of work yourself – even the most experienced handyperson can come unstuck with disastrous consequences.
Working with your electrician
Your electrician will come out to assess the property and the best method of getting power to a garden room before they give you a quote. During their first visit, you can expect them to:
check the distance between your house and the garden room
look at the consumer unit in your property
make an assessment on the safety of your existing installation
ask about the number of sockets and switches you require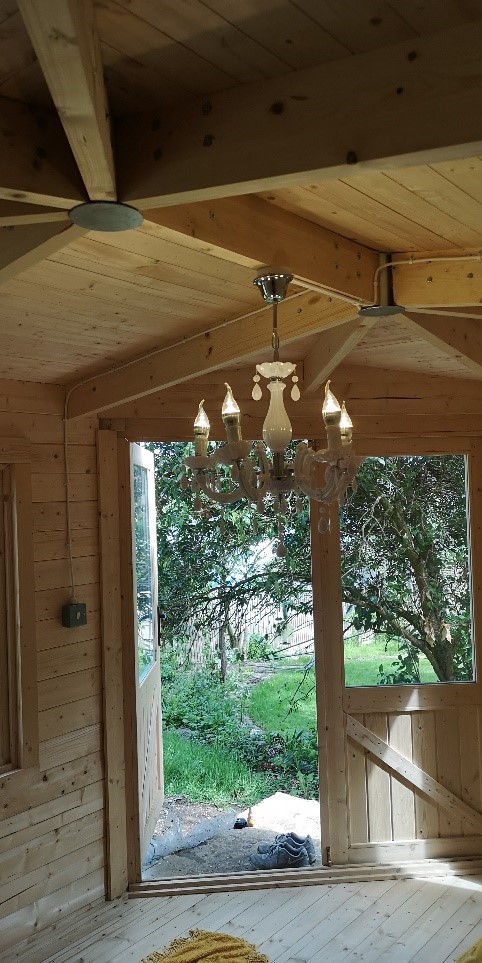 ​Getting power to a garden room – our electrician will run a cable between the mains system in the house and your outbuilding. This is known as a steel wired armoured (SWA) cable.  It is designed for heavy-duty use and is typically buried underground where it is protected from accidental damage. However, your electrician may choose to run the cable along a wall, if it is more efficient.
If your electrician decides that the best way forward is to lay the cable underground, they will have to dig a trench between your house and garden room. This is where you can get involved, but ask your electrician before you start the work. Consult with them to decide on the most sensible path between the two buildings, and make sure you're clear on how far to dig down.
Depending on your power requirements and the demands on your existing installation, you may need a second consumer unit in your outbuilding. Your electrician will make an assessment during their visit to discuss getting power to your garden room and outline their plan when they quote.
At Full Circuit Solutions, your safety is our number one priority, which is why we work to the highest industry standards. This means fitting RCD safety devices, where needed, to protect you from electric shock. A residual current device (RCD) is a type of circuit breaker that cuts off the power when it recognises a problem in the circuit.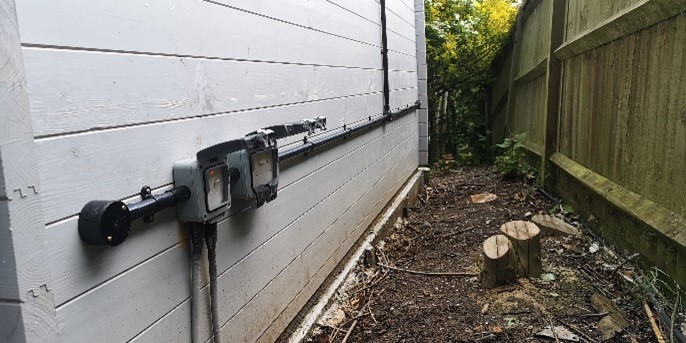 ​
Getting Power to a Garden Room – the Cost
The cost of installing electrics in an outbuilding will depend on the size of the job – how many sockets are required, the kind of lights you want, and whether you require an extra fuse box. Rest assured that if you choose Full Circuit Solutions to do the work, you will receive a full itemised quote, so you know exactly what you are paying for.
We only ever ask for 20% of the cost upfront, and we never asked for interim payments unless this has been agreed in advance. The rest is payable on completion of the job and only when you are 100% satisfied do we consider the work finished.
For more information about getting power to a garden room, arrange a visit from one of our electricians in Essex. We have over ten years of experience working on domestic properties, so rest assured you are in safe hands with Full Circuit Solutions.